Welcome to the city that's "Just North Enough to be Perfect". You have decided to spend your summer in beautiful North Bay, but may not fully grasp all that this city has to offer.
Summers in North Bay are warm, beautiful and fun. With the warm summer sun, and student budgets not always allowing for A/C, the beach might be your summer best friend.  North Bay is home to two large lakes, within city limits. North Bay's waterfront is within walking distance from the city-bus depot. Remember in Southern Ontario how far you had to drive for a beach day? Well not in North Bay!
At the waterfront, you can walk the boardwalk, have lunch at the Boat, play beach volleyball, go sailing or event rent kayak and enjoy the water from a different angle. The Boat also turns into a summer hotspot for ni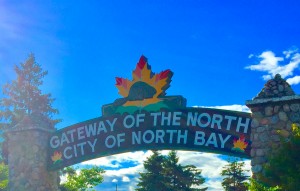 ghts out; with live bands and a great view of the sunset.
At the waterfront you will also find the Chief Commanda II. ALL  Aboard! This 320-passenger vessel hosts dining, sightseeing, private charters and music cruises. This is a great opportunity to explore the waters of Lake Nipissing and get a break from the regular day-to-dat activities.
Looking to get active outside? North Bay's Kate Pace Way, is a 12 kilometre multi-purpose trail that can bring you from one side of the city to the other. Whether you like biking or roller-blading the Kate Pace Way is your
best choice.
If being in the bush is more of what you're looking for, then Canadore College offers miles of beautiful trails right on campus, or you can go down to the incredible Duchesnay Falls. Other options include hiking the Laurentian Escarpment, La Vase Portages, Laurier Woods and more, all within a short drive; some on bus routes. We also have lots of camping surrounding the city with Samuel Champlain Provincial Park only 30 minutes away in Mattawa.
Speaking about Mattawa, each summer this small town attracts crowds from miles away with their 3-day Mattawa Voyageur Days festival. Friday night is county night with Taw Connor's (Stoppin' Tom's son) getting the party started followed by Dan Davidson then The Road Hammers with the After Hours concert by North Bound. Saturday night the party starts with Holly Woods & Toronto followed by The Darby Mills Project then Prism with Trooper as rounding off the main event. And we can't forget Toe Jam Tequilla as the After Hours performance. Sunday will be filled with free Canada 150 events with performances by Little Bones, Green River and Hotel California. This is a festival that never disappoints, and with camping options available the fun doesn't have to stop.
On the topic of performances, meet the Capitol Centre. First opened in 1929, the Capitol Centre has been providing on-stage entertainment in North Bay for decades, bringing a wide variety of acts; including Nick Carter, Dan Talevski, Howie Mandel, the Trailer Park Boys, the Toronto Symphony Orchestra, broadway shows,and even the world-renowned "Rocky Horror Picture Show". The Capitol Centre offers Sunday movies, has lots of parking, and is a 5 minute walk from the bus station.
If sports are your thing, North Bay is home to many clubs; tennis, baseball, dodgeball, volleyball, soccer, ultimate frisbee and more. With some clubs having staggered starts throughout the summer there is always an opportunity to be active. North Bay and area is also home to five golf courses. From Pinewood's par 3 course, to Osprey Link's Championship Public Course, Highview in Powassan, Laurentide in Sturgeon Falls the members only North Bay Golf and Country Club; there is a course that will match your need and skills.
From great entertainment to wonderful outdoor adventures North Bay  is a perfect place to spend your summer.