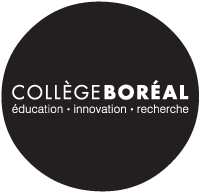 Collège Boréal offers a large number of programs and services to students and to the general public.
Collège Boréal offers programs in five schools of study:
École de l'environnement et des richesses naturelles / School of the Environment and Natural Resources
École des métiers et des technologies appliquées / School of Trades and Applied Technology
École des affaires et des services communautaires / School of Business and Community Services
École des sciences de la santé / School of Health Sciences
Collège Boréal provides high quality personalized education and services to a diversified clientele and contributes to the development and growth of French communities throughout the province.
Collège Boreal's Sudbury residence is located in peaceful surroundings near a walking trail on the south side of the campus, just steps away from the cafeteria and student services. All suites feature separate bedrooms with a double bed, a closet, and a work desk. Each suite has its own private three piece bathroom and a kitchenette. Common spaces include a multipurpose sun-filled lounge for reading and relaxation, a modern kitchen, and a laundry room. Here, students can benefit from a pleasant and safe living environment at an affordable price while having access to a number of social activities, cultural events, and educational programs.
Click here for more information on Collège Boréal's residence!
Government Financial Aid
OSAP
Grants
Garantie Boréal
Bursaries
A dedicated team of professionals is committed to offering you a wide range of services to facilitate student adaptation and integration. Individualized services are also available to ensure academic, personal, and professional success.
Mentoring and tutoring services are available.
Students have access to health services provided by a nurse practitioner.
Our Employment Centre (Centre d'emploi) provides Collège Boréal students and graduates job search assistance and tools.
Collège Boréal's dental hygiene clinic provides students with preventive treatments under the supervision of registered dental professionals at reasonable prices.
Boréal's main campus is located in Sudbury, Ontario.
The City of Greater Sudbury is 3,267 square kilometres in area and contains 330 lakes. The city is home to approximately 160,000 people and is a multicultural and truly bilingual community. Frequently visited by nationally and internationally renowned artist, the region has become a cultural hub in Ontario. Greater Sudbury is a safe community and, in a recent study conducted by Statistics Canada, Sudbury residents are the happiest people in the country!
In addition to the main campus, Collège Boréal has campuses in other northern communities such as Hearst, West Nipissing, Kapuskasing, and Timmins! Click here to find out which campus best suits your needs.