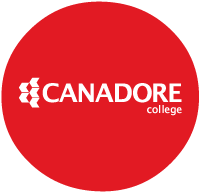 Canadore College is ideally situated in North Bay, Ontario – a short 3.5 hour drive from Toronto – far enough from home to be independent and close enough to get home for dinner. The College is located in a small and safe city amidst a beautiful natural setting. There are three easily accessible campuses in the city – College Drive Campus, Commerce Court Campus and Aviation Technology Campus – and a campus in Parry Sound.
Canadore is the college of choice for students from across the province and around the world. Canadore's focus is on student success, program and service excellence, connection to community, sustainability and innovation.
Canadore has over 75 full-time quality programs and has outstanding faculty and student services.
The College boasts the highest graduation rate of Ontario's English speaking public colleges, has over 44,000 alumni, and graduates approximately 1,000 students each year.
Canadore College has the newest residence complement in Ontario featuring three apartment-style complexes that accommodate over 675 students. Residences provide single rooms within a 2- or 4-bedroom suite, allowing you to have your very own space.
Each residence offers an 8-month lease with: a fully furnished suite with a full kitchen, unlimited internet, flat screen TV, mail service, fitness centre, access to public transportation and 24-hour laundry facilities.
There are various means of financial aid available at Canadore College including, but not limited to:
OSAP and Net Tuition
Entrance Awards
Online Bursaries
Discretionary Bursaries
Emergency loans
30% Ontario Tuition Grant
Students are top priority at Canadore College and are provided with many resources to support success including individualized learning strategy planning, assistive learning devices, career guidance, mental health and wellness initiatives, crisis and personal support, peer tutoring, a co- curricular program and more.
Canadore College supports diversity on campus, including students of all sexual orientations and gender identities, racial and ethnic backgrounds, and other groups.
In the City of North Bay, you can enjoy great restaurants, movies, Ontario Hockey League games, shopping at the Northgate Shopping Centre, live theatre, community festivals and events, and a vibrant nightlife. Whether you feel like a night out dancing, listening to live music, or just sitting in a pub playing pool and relaxing, the city has what you are looking for.
North Bay provides regularly-scheduled direct bus shuttle services to our three local campuses, and all full-time students receive a bus pass for travel from September through April, the cost of which is included in your tuition.
Outdoor activity consists of countless rivers, forests and canoe routes, and trail systems provide endless outdoor activities like fishing, camping, swimming, hiking, biking, canoeing, kayaking, and a variety of other sports. The city is nestled between two beautiful lakes, Lake Nipissing and Trout Lake, presenting limitless water recreation opportunities. We also have a number of golf courses, parks, indoor and outdoor ice pads, baseball diamonds and soccer fields throughout the city.