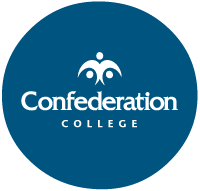 Confederation College is situated on 130 acres of park-live property located right in the heart of the city of Thunder Bay, with beautifully treed grounds, a shallow, twisting river and a network of walking paths. We also boast a state-of-the-art Aviation Centre of Excellence facility, located at the Thunder Bay International Airport.
Along with its main campus in Thunder Bay, Confederation College has eight regional campuses located in the communities of Dryden, Fort Frances, Kenora, Geraldton, Marathon, Red Lake, Sioux Lookout and Wawa.
Confederation delivers exceptional education and training to an average of 7,200 combined full and part-time students per year.
Confederation's Spruce House and Cedar House features two fully furnished, apartment style residences with four private bedroom units, kitchen with dishwasher, living room with LCD flat screen, two full-sized bathrooms, cable and internet access, and en suite laundry.
Sibley Hall is a staffed, co-ed residence facility with two, fully furnished rooming options with features that include: on-site laundry, games hall, large activity room, ATM in lobby, 24  hours video monitoring, internet access, digital cable and more.
Our residences are also just steps away from classes with access to city wide transit, available directly on campus.
Click here for more information on Confederation College's residence!
Confederation College can help you get the grants, scholarships and financial assistance you need to assist with your educational costs. In 2016/2017 Student Awards exceeded $400,000.
In 2018, we will be awarding approximately $200,000 in entrance awards to first-year students.
From application through to graduation, Confederation College student support services are there to help you every step of the way. Confederation supports students with a wide variety of effective services including:
Academic Advising
Academic Support Centre
Accessibility and Accommodation
Bookstore
Campus Employment Opportunities
Counselling
Daycare
New SUCCI Wellness Centre
Health Centre
Health Plan
Paterson Library Commons
Registration Services
Student Success Centre
Tec Hub
Aboriginal Student Services
There are many opportunities to immerse yourself in your Aboriginal culture and heritage while at Confederation College through a variety of traditional events and activities.
Aboriginal Student Navigators can help guide you in your educational journey, including:
Applying to college and for funding/financial aid
Arranging for living accommodations and daycare
Accessibility services and accommodations assistance
Communication and connection to your home community
Accessing local city services
Personal counselling
Academic advising and homework help
Situated on the north shore of Lake Superior – the world's largest freshwater lake – Thunder Bay is one of the most dynamic cities in northwestern Ontario, offering an exciting mix of urban and active lifestyles. Enjoy all the conveniences of city living with easy access to some of Canada's most epic natural surroundings.
With a population of over 108,000, Thunder Bay is a four- season paradise that offers year-round indoor and outdoor activities. Wide-open green spaces, parks and wilderness – and a major centre for visual and performing arts, Indigenous traditions and culture, Thunder Bay is a hub for cultural celebration in the north
From mall shopping, big box stores and small independent boutiques, to concerts, festivals, sporting events and more – Thunder Bay's thriving acts and entertainment scene, lively restaurants and vibrant nightlife has plenty to keep you entertained.
Must-Sees
The Sleeping Giant – a natural rock peninsula that forms Thunder Bay and is home to numerous wildlife, a boreal forest and incredible views.
Fort William Historical Park – the world's largest reconstructed fur trade post demonstrating life as it was over 200 years ago.
Eagle Canyon Suspension Bridge – a thrilling suspension bridge, extending 600 feet across and rising 152 feet above the canyon floor.
Kakabeka Falls – a magnificent rush of water plunges 40 metres over rock and fossils to the rugged gorge below.
Ouimet Canyon – lined by sheer rock face; follow the trails, stop at the observations decks and take in the breathtaking views.
New Succi Wellness Centre
Opening Fall 2017 is the new SUCCI Wellness Centre, "Minowaadiziiwin" which will include a gymnasium, running track, cardio and strength training rooms, and more!
New TEC Hub
Opening Fall 2018 is our new Technology, Education, and Collaboration (TEC) Hub which will host vibrant research, incubation and technology transfer services to support the region's advanced manufacturing, technology and resource sectors.