You finished up the school year and you've decided to stay in Sault Ste. Marie for the summer. You've made a GREAT choice! The city on St. Mary's River is a beautiful and exciting place to spend your summer. From festivals and local attractions to outdoor adventures and great food and shopping, there's something for everyone in the Soo this summer!
When we think of Sault Ste. Marie we think of the picturesque Northern Ontario landscape. We also think of the limitless opportunities to discover something new and exciting outdoors. If you're into hiking, biking, running or even a casual relaxing walk, Sault Ste. Marie and the surrounding area offers so many different parks and trails for you to discover. Whether you visit the Hiawatha Highlands/Kinsmen Park with over 40 kilometres of nordic trails or take an hour trip to Pancake Bay Provincial Park to explore their hiking trails, there is something for everyone.
Who doesn't love a day at the beach on a hot summer day? Remember in Southern Ontario how far you had to drive for a beach day? Well not in Sault Ste. Marie! Pointe Des Chenes is only twenty minutes west of Sault Ste Marie. Pack a picnic lunch and spend a day on the sandy beach relaxing in the sand, swimming or even windsurfing where St. Mary's River begins at Lake Superior. After you take a hike at Pancake Bay Provincial Park you could always stop in at the beach too. Actually, the beach is 3.5 kilometres long so you could enjoy both a walk along the beach and a day in the sun and water relaxing.
Are you an art lover? Whether you're interested in painting, pottery, photography or even stained glass you must check out 30th Annual Arts at the Docks July 16. Located at the Hilton Beach Waterfront and Community Centre from 11am to 5pm and with over 40 artists, this show is one of the largest and most exclusive shows in the Algoma District. Don't worry about getting there as free transportation is offered to the event by tractor and wagon!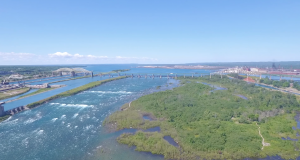 How can we forget that July 1, 2017 marks Canada's 150th birthday! Well there is no better place to celebrate than Roberta Bondar Park. Starting at 1pm, the day will be filled with tons of entertainment from local artists to the fireworks display at dusk.
There's no better way to celebrate summer than on the waterfront. Mark your calendars because you don't want to miss Rotaryfest in the Sault on July 13-15 at Clergue Park and Rowswell Park. Do you love music? There's free entertainment on two stages. Is food your thing? Check out the Ribfest or any of the local food vendors. Enjoy some carnival rides and don't miss the parade with this year's theme being "Canada 150: North Strong Free". This isn't a festival you want to miss out on.
Do you have a passion for cars? Hilton Beach Car Show is taking place on July 22nd. This is an annual classic car show that takes place along the waterfront and up Marks Street. Spend the day checking out some amazing cars while exploring local crafts, vendors and food tents! Oh yeah, did we mention admission was free?
Where there is a lake there are boats. Well at least from August 4th to 6th! The CanAM President's Cup Poker Run is happening on the waterfront and it is a great event for people of all ages. Watch powerboats from around the world and even get the chance to take a ride for charity. If you love competition, the water or the outdoors, this is not something you won't want  to miss.
Sault Ste. Marie has so much to offer beyond these exciting events. There are great local restaurants all over the city and great shopping at Cambrian Mall and Station Mall located in the heart of downtown on the waterfront. Don't forget to take a walk downtown along Queen Street to discover all the local businesses, services, food, arts and history. Catch a movie at the Galaxy Theatre, go bowling or even try a game of golf at a local course. If you like history or just want to learn more about Sault Ste. Marie's historic sites you can even take part in walking tours at Sault Ste. Marie Canal National Historic Site and/or Fort St. Joseph, a strategic outpost from 1796 to the War of 1812.
You've got a lot to look forward to this summer, so get out and start exploring!